Overview information about bioplastics BIO40P

Ingredients include 40% starch and 60% primary PP plastic. Packaging industry and single-use plastic products (knives, spoons, forks, cups, straws (straight/twist), trays, boxes, nonwovens, coffee capsule packaging, bags Vacuum).

Product Description bioplastics BIO40P
Bioplastic product BIO40P is a combination of renewable raw materials such as starch and traditional petroleum resin. The combination aims to reduce the petroleum composition and increase the ability to decompose in a short time, limiting pollution from non-biodegradable plastic waste. BIO40P produces similar to traditional plastic products, without changing the production system, so this product has a very competitive price, can be used at high temperatures. The finished BIO40P is resistant to oil, gas, rust, salt and solvents. So it is very suitable for use in daily life, household items or movies.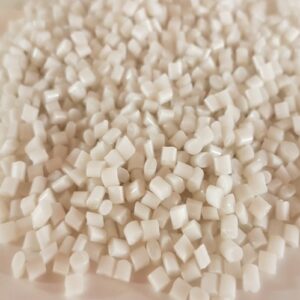 Product Features bioplastics BIO40P
| | |
| --- | --- |
| Item | Parameter |
| Humidity | 0,37% |
| Solubility | Insoluble in water and solvents |
| Starch content | 40% |
| Operating temperature | <100 |
| Melting temperature | 300 |
| Decomposition time | 6 months (buried in the ground) |
Uses bioplastics BIO40P

Typical applications: direct processing on basic plastic processing equipment such as injection molding, extrusion, stamping molds or blown film technology. From there, create environmentally friendly products such as straws, cups, knives, spoons, trays or boxes. Conventional machinery and equipment for other plastic products can be used, just changing the processing conditions. Pay attention to keep the product dry after each use, should be stored, stored in a dry and clean place.
Technical data bioplastics BIO40P
| | |
| --- | --- |
| Product Specifications | Plastic beads BIO40P |
| Main ingredient | Polypropylene and starch |
| Starch content | 40%wt |
| Shape | Yellow round cylindrical light tablet |
| Odor | Mild starchy smell, not irritating |
| Density according to ASTM D792 | ~ 1.28g/ |
| Humidity at 150, measured for 3 hours | ~ 0.7% |
| Average thickness | 0.015mm |
| Toxicity | Non-hazardous (under section 313, title III of the 1986 revision and reassessment and 40 CFR part 372) |
| Starch content is measured in TGA | 39.6% |
| Processing temperature | 165 – 170 |
| MI, 230, 2.16kg | 3.5g/10 minutes |
| Elastic modulus according to ASTM D638 | 391 MPa |
| Carbon dioxide () generates | 2100mg/g vs 3260mg/g from polyolefin |
| Impact resistance | 32g |
| Tensile strength at weld | 18.1 MPa |
| Tear strength | 108 N/mm |
Products manufactured by bioplastic  

BIO40P