Good quality Biodegradable materials with good price in Vietnam
As a unit specializing in the production of biodegradable materials on tapioca starch, high-yield cassava in Vietnam, it is completely biodegradable, the material does not affect the food security. This starch is not used for food but for industrial applications. Our company's biodegradable materials have reached the international standard of biodegradability and are recognized by prestigious organizations in the world:
@ US Department of Agriculture – USDA: Certified products with renewable biological ingredients.
@ TUV-AUSTRIA Organization (2 stars): Product certified with renewable biological ingredients and 100% Food Safe without harmful ingredients and heavy metals.
@ Eurofins Organization: Certified to meet REACH/ROHS (EU) food safety standards and FDA (US) standards.
@ Vinacontrol Organization: 100% food safety certification does not contain toxic ingredients and heavy metals.
@ Center 3 (Quatest 3) under the Ministry of Science and Technology: Certification of environmentally friendly products and biodegradation standards within 6 months according to Circular 07/2012/TT-BTNMT.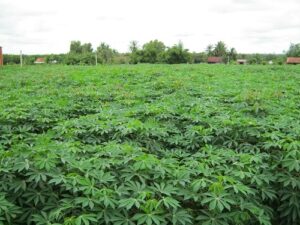 Introducing Biodegradable materials
With a team of experienced, professional, and dedicated staff, We has affirmed its position and became a reputable partner in the field of supplying fully Cassava plastic – biodegradable materials  and products. Furthermore, we have been trusted and chosen by many domestic and foreign enterprises for advising on the business strategy towards "Go Green", developing solutions and supporting on technology and production process.Company comprehensive solution biodegradable materials , from fully bio raw materials to finished products and professional technical consulting services in Vietnam and other countries around the world.
Product biodegradable materials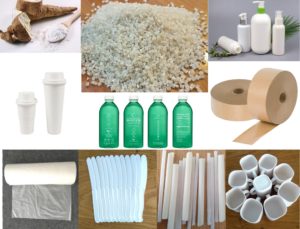 Grasping the green consumption trend in the world, We targets businesses in Vietnam and other countries with policies of limiting disposable plastic products to protect the environment such as Europe, America, Thailand, Korea, Indonesia … As a biodegradable materials – PLA  bioplastic supplier and a comprehensive strategic planner, we are confident to meet diverse requirements with the highest quality and at the most competitive prices.
We have two Biodegradable plastic material codes with specifications to make the following products
1. Typical Material Properties Biodegradable plastic
Application in packaging and coating film (T-shirt bag, shrink film, agricultural mulch).
Properties
Unit
Test method
Value
Melt Flow Rate
Melt flow rate (190oC/5.0 Kg)
g/10 min
ASTM D1238-10
1.58
Mechanical Properties
Elastic modulus
MPa
ASTM D638
50.3
Tensile strength at weld (v=50mm/min)
MPa
ASTM D882
18.1
Tear strength (v=50mm/min)
N/mm
ASTM D1004
108
Impact resistance by the free falling – dart
g
ASTM D1709 –Method A
32
Thermal Properties
Melting point
oC
ASTM D3418-12
123
Decomposition point
oC
ASTM E1131 – 08
> 300
Other Properties
Density
g/cm3
ASTM D792
1.08
Humidity
%
0.37
 Water vapor transmission
 g/m2.24h
ASTM E96(Temperature: 38oC, Humidity: 93 %RH)
 26.64
 Cold resistance
The sample are placed in – 25oC environment, 2 hours
The sample is not cracked after 2hours
2.Typical Material Properties Biodegradable plastic
Packaging industry and single-use plastic products (knives, spoons, forks, cups, straws (straight/twist), trays, boxes,
nonwovens, coffee capsule packaging, bags Vacuum).
Properties
Unit
Test method
Value
Melt Flow Rate
Melt flow rate(230oC / 2.16 Kg)
g /10 min
D1238-10
6
Mechanical Properties
Elastic modulus
MPa
D638
391
Tensile strength
MPa
D882
27.83
Notch izod impact strength
kJ/m2
D256-10
2.75
Shore D hardness
D2204-00
70
Thermal Properties
Melting point, DSC
oC
D3418-12
168
Decomposition point
oC
E1131 – 08
>300
Other Properties
Density
g/cm3
D792-13
0.963
Biodegradable plastic Application on machines:
Extrusion, injection molding, lamination, bottle blowing, bag blowing, film blowing
Product Biodegradable plastic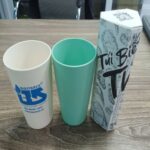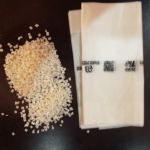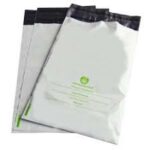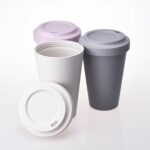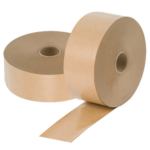 Biodegradable materials
Application on machines:
Extrusion, injection molding, lamination, bottle blowing, bag blowing, film blowing
Biodegradable materials
time
Cassava plastic depends on product needs if you want your product to decompose quickly or slowly the decomposition time is 6 months 1 year 2 or 3 years we can adjust the time this for you it does not affect the quality of your product
Quality
–  Products are produced strictly according to national and international standards.
– We have CE, ISO certification
– We test every product before delivery.
Product price
– We can offer the lowest biodegradable materials resin price compared to the market.
– We quote the earliest price for any customer.
– Price can be reduced according to quantity.
Our services
Quality is life, service determines development and reputation is guarantee.
1. Cargo tracking service during transportation.
2. Quality guarantee is 12 months.
3. Big discount for customers who order many times.
4. Smooth delivery procedure.
5. If it is proven to be due to quality problem, we will bear all replacement cost during the quality guarantee period.
U.S. Department of Agriculture (USDA) Certified Biobased Product label. The product, is now able to display a unique USDA label that highlights its percentage of biobased content.